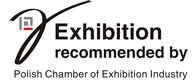 HOSTED BUYERS
Programme Partner

Polagra Food 2018 - plan your visit

POLAGRA FOOD Fair - opening hours:

8-9 May

10.00 - 17.00

10 May

10.00 - 16.00

Save your time and money! Avoid the queue at the ticket offices and enjoy the fair! Price starts from 20 PLN!

>>> Tickets

Plan the meetings with POLAGRA FOOD Fair exhibitors.

 

Stay up to date with information about the fair. The current information about innovative products, special events, companies which are going to participate in the POLAGRA FOOD Fair.

>>> News

Are you planninig to visit POLAGRA FODO Fair? Make sure to book your hotel earlier! Most of the hotels closer to the event day will be booked out! World Trade Center Poznań, an exclusive representative of MTP, provides you with full service in scope of accommodation.

See the products of high quality which were awarded in the competition about Gold Medal of Poznan International Fair!

>>>

The best products list

Take a look at the newest products offered by POLAGRA FOOD Fair's exhibitors!

 
.