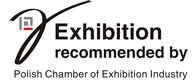 HOSTED BUYERS
Programme Partner

Your road to success!
Fight for the Gold!
The Gold Medal of International Poznań Fair benefits:
experts' recommendation
winner's package - promotion of the awarded product!
increased brand trust!
participation in the Gold Medal - Consumer Choice competition!
The estimated value of the Medallist Package is PLN 50,000.
Identification of the awarded products at the exhibition
Prestigious Gold Medal Statuette and diploma,
Logotype along with the logo book,
Template of the advertisement promoting the winner,
A4 stand with the Gold Medal logotype,
Large sticker with the Gold Medal logotype for fast identification of the awarded product among the stands in an exhibition hall.
Campaigns targeted to visitors
Detailed descriptions of the awarded products in the electronic and print fair media: newsletters, exhibition guide, handbook, maps and plans, folders for Visitors, and cyclically in the Poznań Trade Fair Magazine. It means the carefully prepared message will get to every trade fair visitor.
Placing the list of the awarded products and information promoting them on the MTP websites (www.mtp.pl, www.zlotymedal.mtp.pl and websites of particular trade fairs, social media).
Listing the winners of the Gold Medal on the area visual identification elements during the fairs.
Medallists in the media
Videoboards - online campaign in nationwide news sites: www.fakt.pl, www.biznes.onet.pl, www.forbes.pl. In total 250,000 hits on all sites.
Distribution of press releases on the award winners to national and local journalists of the most popular and opinion-forming trade magazines.
TV campaign promoting the Gold Medal Competition - in national media, as a sponsor of the weather forecast programme on TVP INFO .
TV campaign local media - Poznań Trade Fair Magazine - materials concerning selected trade airs on innovative products and services tat have won the MTP Gold Medal award.
Interviews with the Gold Medal winners - possibility to interview the MTP Gold Medal winner. Promotion of the Competition winners on the MTP TV platform - www.mtptv.pl and further promotion on  youtube.pl , corporate websites and social media.