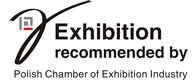 HOSTED BUYERS
Programme Partner


World Halal Convention East Europe
The conference takes a place during Polagra Food Fair.
The World Halal Convention East Europe is an excellent platform in charting our own course towards a stronger halal economy and a venue for unified action and synergized efforts of government and private sectors to boost Halal industry development and enable Halal products to penetrate and be acceptable in the European Halal market. It is focused on the development of halal industry in Poland as well as the other Eastern European countries, aimed at increasing halal products exports to the OIC countries which are the main Halal Food consumer market.
The World Halal Convention East Europe is expected to draw delegates and buyers from more than 25 countries like Kingdom of Saudi Arabia, United Arab Emirates, Kuwait, Turkey, Iran, Pakistan, India, China, Japan,Taiwan, Malaysia, Indonesia, Thailand, South Korea, Philippines, England, Italy, Canada, New Zealand, Europe and USA and would be an excellent opportunity for local and international business to have a direct interaction to explore new business prospects.
The event will be a gathering of International and Local top officials in the government and academe, industry leaders, cutting-edge Speakers, Dignitaries/VIPs, Certification Bodies, experts, buyers, traders, importers, chain stores, and hyper markets which will provide a perfect platform to conduct business networking and to get new trade opportunities to enter this lucrative market.
In this connection, we are pleased to invite you as one of our Delegate in this first of a kind trailblazing and promising event in Poland.
PROGRAMME OF CONVENTION >>>
Participation to the World Halal Convention East Europe is by invitation only and Registration is free for the Conference.
REGISTRATION FORM >>>
The registration form should by sent via email: conventionhalal@gmail.com.
More information: www.polandhalalconvention.com.