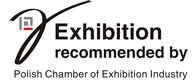 HOSTED BUYERS
Programme Partner

We join by taste
POLAGRA FOOD every year attracts a large group of visitors with well-known brands of food products, food innovative, as well as exotic flavours from around the world.
This year's exhibition will feature, among others, the Polish dairy and meat processing industries which strongly focus their efforts on gaining new customers from abroad, but are also working intensively on the offer for the domestic market as well as fruit and vegetable processors and companies producing sweets, tea, drinks, spices and organic food. In addition to Polish entrepreneurs there will also be food producers for instance from Belgium, Belarus, China, Spain, the Netherlands, Korea, Lithuania, Macedonia, Ukraine, Hungary and Italy.
Those of you who want to know the latest trends in the food industry we invite to visit POLAGRA FOOD Fair.
We encouraged to purchase tickets through the www.mtp24.pl platform. Buying ticket online is a comfotable and cheaper.