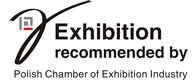 HOSTED BUYERS
Programme Partner

Vege, fit and without gluten!
This is a new offer from Celiko, which will be available at Polagra Food Fair.
The company Celiko will present, among others, FRUUP freeze-dried crunchy bar, but in new flavors - pineapple with sunflower, raisins, coconut and poppy and the second one with cherry,cocoa and hot peppers. For healthy snack enthusiasts we recommendblend of freeze-dried vegetables in the form of cubes, which can also be added to salads.

Among the company's new products are gluten-free muffins and jelly with agar.