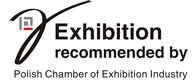 HOSTED BUYERS
Programme Partner

The winners of Gold Medal competition 2016
We know verdict of jury
The Golden Medal is one of the most recognisable and prestigious awards at the Polish exhibition market. Every year, almost 500 products participate in the competition for the Golden Medal of the Poznań International Fair. However, only those meeting the criteria of the professional jury are awarded with this prestigious distinction.
We invite you to get familiar with the best products of POLAGRA GASTRO exhibitors already today!
The list of awarded products at POLAGRA FOOD Fairs>>
After the jury verdict and grant a Gold Medal for selected products, begins the next stage of the competition. Since the beginning of 2012, the representatives of the industry and consumers cast their votes for the best fair products in a separate competition "Gold Medal - Consumer Choice" and on website www.zlotymedal.pl.