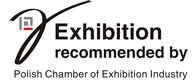 HOSTED BUYERS
Programme Partner

The Evrotek group from Ukraine will visit the Polagra Food fair
The company's representatives are interested in food category of sweets, tea, coffee, condiment, delicacies.
Evrotek is a group focusing on supermarket chains, through mini markets and ending with convenicnce stores.
The members of group:
Fresh
"Fresh" always propose it's customers fresh food for good prices and wide range of complementing goods. Nowadays the network consists of 5 supermarkets. More than 2000 customers visit each of them every day.
Arsen
First supermarket "Arsen"  was opened in Lviv in 2002. At the same time it became the first supermarket of such format on Western Ukraine. We were the first who offered Lviv people wide and diversify range of food goods, nonfood product, cookery and pastries, which still are ones of the best.  Nowadays  "Arsen" network consist of 7 powerful shopping center in Lviv, Ivano Frankivsk and Rivne, which propose you popular goods and high-level services. They all are located on the densely populated districts, so each of them is visited by more than 3000 customers per day.
Kvartal
The network "Kvartal" consists of 23  economy classes stores in Chernigiv, Slavutych, Pryluky, Zhytomyr. It is economy stores for all family, where each can find the products by his or her taste. That is why "Kvartal" provides the consumer's needs by wide range of  high quality goods and high level services!
Soyuz.
The visit is the result of the work of the Hosted Buyers team dealing with the promotion of POLAGRA FOOD among foreign food distributors and bringing to the fair the companies interested in expanding the range of food products in their stores or wholesalers.