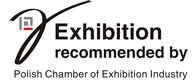 HOSTED BUYERS
Programme Partner

Sweet company
Krajowa Spółka Cukrowa S.A. is currently the largest in Poland and eight largest sugar beet grower in Europe.
Krajowa Spółka Cukrowa S.A. share in Polish market is over 40%, and is one of the top hundred companies in Poland. Since 30 September 2003, KSC S.A. has been a uniform Polish consortium gathering together seven sugar manufacturing companies. KSC S.A. subsidiaries are companies with extensive experience on the market.
The group also includes a fruit and vegetables processing plant, "Polskie Przetwory", with its registered office in Włocławek. The main line of business of Krajowa Spółka Cukrowa S.A. is production and sales of sugar, sales of side-products of its production process, and fruit and vegetable processing.
KSC S.A. Branches
producing sugar and its by-products: Dobrzelin, Kluczewo, Krasnystaw, Kruszwica, Malbork, Nakło, Werbkowice
producing fruit and vegetable preserves: Polskie Przetwory in Włocławek
Subsidiaries:
Pszczółka Sp. z o.o. Candy Factory has been one the largest manufacturers of hard and filled candies for over 60 years. Its offer includes over 40 different types of candies. The manufacturing process is based on own, recognized and unique recipes, combining tradition with the ever changing taste preferences.
Przedsiębiorstwo Zbożowo-Młynarskie "PZZ" w Stoisławiu S.A. - the company is a leader in grain and mill industry in Poland.
Przedsiębiorstwo Przemysłu Ziemniaczanego "Trzemeszno" Sp. z o.o. - established in 1883 is one of the largest Polish manufacturers of potato starch and potato protein feed. High quality products are manufactured from potatoes grown on high grade plantations and are popular among the largest consumers in Poland and abroad.
KSC Bioenergetyka Sp. z o.o. - has been a success in straw pellet and briquette retail sector.
ICS "Moldova Zahăr" SRL – it manufactures sugar in the Cupcini Sugar Refinery.
Krajowa Spółka Cukrowa S.A. is a exhibitor of Polagra Food Fair 2018.