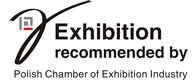 HOSTED BUYERS
Programme Partner

Snacks for children!
Interesting proposals will be presented company Stewiernia Sp. z o.o. at Polagra Food Fair.
The offer of the company consists of interesting snack for children. Among them are lollipop sugar free cola flavor, Mini oaty bites, farm animals biscuits and
chocolate bar original moo for vegan BIO.

The visitors of Polagra Food Fair you can also try sea bacon seaweed.