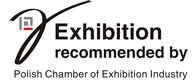 HOSTED BUYERS
Programme Partner

See and taste food from Poland
As member of Hosted Buyers Programme.
Are you looking to save time by meeting face-to-face with quality suppliers from the food industry?
Hosted Buyers Programme makes it easy for the top buyers to attend the biggest in Central Eastern Europe International Trade Fair for Food – POLAGRA FOOD, which is held in Poznan (Poland) from 8.05 to 10.05.2018.
The Hosted Buyers Programme provides top-level buyers an opportunity to meet with the exhibitors of their choice for focused one-to-one appointments. Qualified buyers will be our VIP guests. They will receive accommodation, catering and many other benefits.
Participation is free of charge, subject to strict qualifying criteria.
See the relation of particpant of Polagra Food 2017:
WHAT ARE THE BENEFITS?
* A personal itinerary of appointments with your choice of over hundreds of exhibiting companies
* No time wasted meeting with exhibitors that don't fit your business needs!
* Dedicated POLAGRA FOOD support team before and during the exhibition
* Hotel Accommodation in Poznan
* Transfers within Poznan from the: hotel – exhibition – hotel
* A free access-all-areas pass to POLAGRA FOOD 2018
* Admittance to exclusive POLAGRA FOOD business evening
* Entry to HOSTED BUYERS ZONE
More information about Hosted Buyers Programme >>>