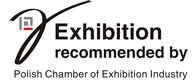 HOSTED BUYERS
Programme Partner

PROMOTE NEW PRODUCTS
Special service for exhibitors of POLAGRA FOOD Fair
Dear Sir or Madam,

New products are the biggest attraction for trade fair visitors. Therefore, we encourage you to take advantage with additional, free of charge promotion opportunities and to send us information about the new products in your offer.
THE NOVELTIES are presented:
on the website of POLAGRA FOOD Fair,
in a supplement to the magazine POLAGRA NEWS sent to key distributors of food products,
in Visitor's Vademecum – a guide available free of charge for guests visiting POLAGRA FOOD fair,
in the press materials sent to the branch magazines and newspapers.
Please send the description of your novelties (max 5 products, each one on seperate form) not longer than 250 characters in Polish and English. MTP reserves the right to edit and abridge texts exceeding the maximum length.
APPLICATION'S DEADLINE: 30TH JUNE 2016
Take advantage of our proposal. To apply innovative solutions, please fill out the APPLICATION FORM >>