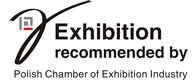 HOSTED BUYERS
Programme Partner

POLAGRA FOOD OFFICIALLY OPEN!
Today, at 11:00 am next edition of the POLAGRA FOOD and accompanying TAROPAK,LOGIPAK, EPLA, POLAGRA TECH, POLAGRA GASTRO, INVEST HOTEL were officially opened.
During the opening ceremony, prizes of the Gold Medal of MTP were also awarded and Acanthus Aureus awarded for the best reflection of the company's marketing strategy in trade exhibition
We invite you to visit the fair - the four exhibition days are giving the opportunity to familiar with offer and talk to representatives of  1,200 companies involved in the food-gastronomy
and packaging industry.