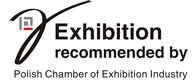 HOSTED BUYERS
Programme Partner

Novelties of Polagra Food exhibitors!
Food manufacturers have prepared many novelties for the fair. Check list!
This year's exhibitors of Polagra Food Fair have reported over 100 new items to be displayed at the exhibition. Among them are alcohols in various flavors, healthy and crispy snacks, also dedicated for children, traditional meats products, ready to eat meals, drinks with interesting flavors and much more.

We encourage you to get acquainted with the list of news and product descriptions.
Novelties of Polagra Food Fair exhibitors >>>