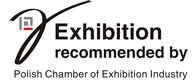 HOSTED BUYERS
Programme Partner

Lemonade!
Manufacture Cieleśnica Bialcon Barbara Chweisuk ooffer non-standard flavours.
During the Polagra Food fair, the company will present a series of lemonades with more than 20% fruit juice. You can choose from flavors:

raspberry with lime blossom

flower of elderberry with green tea

ginger with japanese quince.