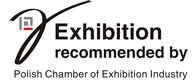 HOSTED BUYERS
Programme Partner

Italian flavours at POLAGRA FOOD
Cheese, ham, fruit and vegetable preserves straight from the Italian Peninsula.
These products will be presented by their manufacturers in the Italian Food & Wine Hall. It is an excellent opportunity to enrich the shop's range with products addressed not only to the connoisseurs of Italian cuisine, but also people open to new taste sensations.
In the Italian Food & Wine Halls will be presented e.g. a wide range of cheeses made of cow or sheep milk, cold meats – including the symbol of Italy, Parma ham, and salami in different shapes and flavours, olive oil and flavoured olive oils (spiced, citrus and other), popular vinaigrette sauce with balsamic vinegar, balsamic vinegar with lemon and orange extracts, Italian ice-cream and vegetable preserves made from Italian sun-ripened vegetables – e.g. Roman style artichokes or sun-dried Italian tomatoes in sunflower oil. There will be also Italian wines offered.