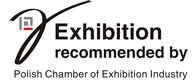 HOSTED BUYERS
Programme Partner

It's time for decision!
The last week of lower prices!
Just until 31st May the lowest prices for exhibition space at POLAGRA FOOD!
Thanks to earlier registration you not only lower the cost of participation at the fair but also  :
can choose the better location
can be a part of promotion we make for our exhibitors
can take a part in promotion campaign in which we promote novelties of our exhibitors.


Benefits for exhibitors:

the possibility to establish new business with representatives of the domestic market as well as with foreign partners

an opportunity to cooperate with retail chains

an opportunity to present the latest products to more than 65 thousand visitors

an opportunity to verify the offers in terms of their competitiveness and the degree of market acceptability.
Do you have any questions?
Contact us: Joanna Sauer-Własny, tel. 691 033 075, e-mail: joanna.sauer-wlasny@mtp.pl