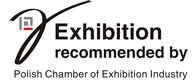 HOSTED BUYERS
Programme Partner

Good for breakfast and for dessert
The novelties of JOGO - milk comapny from Łódź are going to be presented on POLAGRA FOOD Fair.
Theoffer of JOGO - Łódzka Spółdzielnia Mleczarska (Milk comany from Łódź ) includes:
healthy fresh milk with different fat content
delicious cream, and cottage cheese
tasty homogenized cheese and desserts
refreshing milk drinks - curdled milk, buttermilk (natural and fruity), kefirs and yoghurts
Bambino ice cream.
During POLAGRA FOOD the company will present:
Cottage cheese "JOGO" - a perfect composition of the qualities of dry cottage cheese and cream. Naturally arising grain and the addition of fresh cream make the taste of the product satisfies the tastes of the most refined consumers.
Cheese spread with an extremely creamy consistency and dry taste. Perfect for sandwiches or as an addition to dishes Produced from natural ingredients: a delicate dry cottage cheese, delicious butter and fresh cream. Available in 3 flavo
Bambino cheese - the first chocolate-flavored cheese on the market based on dry cottage cheese on the market. A healthy equivalent of chocolate creams. The perfect snack for gourmands and true and healthy delight for the palate.
Bambino ice-cream is made from fresh cream obtained directly from milk from Polish cows. They do not contain any artificial hardeners and bulk substances Delicious, healthy, perfect for dessert and to cool down on hot days.