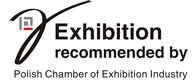 HOSTED BUYERS
Programme Partner

Gold Medal of MTP - join to the best!
Apply to the competition.
Each year, almost 500 products enter the competition for the Gold Medal of Międzynarodowe Targi Poznańskie. However, only the ones that meet the statutory criteria and obtain positive recommendations of the professional jury will receive this prestigious award. The jury, which is a team of experts consisting of eminent specialists representing adequate areas of economic life, looks for modern, innovative products, manufactured basing upon top class technologies. The MTP Gold Medal is thus a confirmation of product excellence and, consequently, an element of its promotion in the market.
As exhibitors of the POLAGRA FOOD trade fair, you can submit your products to the MTP Gold Medal competition. What criteria must be met by the selected products? Above all, it should distinguish them:
health aspect;
sensory attractiveness;
innovativeness.
When should you submit your application?
Until 02/03/2018.
WARNING! The application form for the MTP Gold Medal competition is available on the Exhibitor Zone website. Click the button below to go to the site login page.
How can you use Gold Medal in product promotion?
Te Medallist Package is a set of promotional materials and benefits from MTP, addressed to companies that have won the Gold Medal for their registered product. The Package includes standard BTL materials in print version, files and projects in an electronic form for further use and selected PR and advertising services.
The estimated value of the Medallist Package is PLN 50,000.
Companies that have received a prestigious award have the right to use the logotype in all promotional materials concerning a product, including press, TV, internet or product packaging.
Additionally, the Gold Medal winners are nominated to the Gold Medal – Consumers' Choice competition and have a possibility to obtain additional promotional benefits.  In the contest, a total of more than 335,000 votes have been cast via the website and in the special Champions' Zones located in the areas of the fairs.
Featured products are also promoted by the organizer of POLAGRA FOOD.
The winners of the competition are presented:
in press materials sent to branch media
in the POLAGRA NEWS - trade fair magazine, distributed before the fair to key visitors of the fair, including managerial staff of retail chains, food wholesalers
on the website of POLAGRA FOOD and MTP, as well as in social media
in newsletters sent to potential visitors of the fair
in the guide prepared for visitors of POLAGRA FOOD.
Medalist's package - details >>
Regulations >>