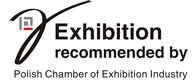 HOSTED BUYERS
Programme Partner

Genuine meetings – real contracts – Polagra 2017
Summary of Polagra Fair.
Traditionally, the largest gathering for the food sector took place in Poznań. For the sector, the fall kicks off with Polagra, which represents a group of trade fairs that offer a comprehensive review of the industry. It is a very positive and attractive time. Starting on Saturday, September 23rd, the Poznań International Fair housed Tastes of Regions. From Monday, that got complemented with the other events in the business block including Polagra Food, Polagra Tech, Pakfood, Polagra Gastro and Invest Hotel. On top of that, the event featured Poland's most important culinary competition addressed to professional chefs, the Polish Culinary Cup. Over the six days the capital city of Greater Poland buzzed with international culinary events.
The whole Polagra trade fair block in Poznań offers the food and gastronomy sector representatives a chance to get familiar with the latest trends, technological solutions and to promote the Polish economy. This year the exhibition included more than 900 exhibitors from 36 countries. It was visited by more than 51 thousand professionals.  The event was complemented with a wide selection of trainings, conferences, contests and culinary demonstrations. Poznań attracted people not only from Poland, but also foreigners who came to the fair from such countries as Singapore, Tadzhikistan, Uzbekistan, Lebanon, Egypt, Qatar, Romania, Holland, Great Britain, Germany, Belgium and Ukraine, who participated in the event under the Hosted Buyers program.
The event in Poznań is the largest trade fair for the whole food industry in Central-Eastern Europe. The fair stands of both Polish and multinational companies attract visitors with their premier products and the latest achievement in the field of food production and technological innovations. What, in that understanding, proves the strength of the fair considered as a business tool which offers the added value? Well, it is the possibility to have real time meetings in one place and to compare what the exhibitors and distributors can offer. What Polagra also does is help build business trust through business talks which are held in nice conditions, which give an opportunity to meet people standing behind their businesses and see their products.
Polagra Food – quality and healthy food
This year Polagra Food offered a possibility to get acquainted with the products of over 200 exhibitors. The exhibition was dominated by the Polish dairy and meat industries. The two sectors were represented by many market leaders whose stands, on one hand, offered lots of products that we often come across in stores in Poland and, on the other hand, lots of premier products. Lactose-free cheeses, GMO-free products, cold cuts made according to home-made recipes represent trends which were easily noticeable during the fair. Additionally, Polish producers prepared interesting ideas for cheese and meat snacks, including those that consumers are searching for at present, i.e. healthy, fit and eco foods.
Apart from the dairy and meat sectors, the fair was largely participated in by companies operating in the fruit and vegetable processing sectors, producers of sweets, snacks, teas, drinks and alcohols. Such products were showcased by entrepreneurs from 21 countries, amongst them representatives from Belarus, Egypt, South Korea, Romania, Turkey, Ukraine, Italy, Finland, Bulgaria, Germany, Hungary, Lithuania, Malaysia and Sri Lanka.
In 2018 Polagra Food will be held in May. Following what we have learnt from the event organizers, the decision to change the date has been made on the basis of consultations carried out among the sector representatives. The time was changed so that it could be participated in by companies from those sectors that could not take part due to the amount of work, e.g. wine producers. Above all, however, it was changed to make it possible to allow business talks between entrepreneurs and distributors, effects of which could be visible in the same year. "The May edition provides additional opportunities to run preliminary tests of various products in the first half of year. It is also a chance to enter into contracts so as to sell them in the other half of year, particularly before Christmas," explains Product Group Director Filip Bittner.
Polagra Gastro and Invest Hotel – a harmonious duo
It is another year Polagra Gastro and Invest Hotel together have made one comprehensive exhibition for the HoReCa sector. This presentation of the latest technological solutions and equipment for gastronomy spots and lodging facilities will definitely be the starting point for changes that are to improve the quality of customer services and conditions within such facilities and expand the range of services provided by them. The new show zone Invest Hotel Showroom was very popular. The visitors could see there ready-made arrangements of rooms prepared by exhibitors, including such companies as Eurofirany, Fameg, abiLine, Anders Furniture, Bonoidea, Classen, GiP, Inter Decor Pro, Kandela Lighting, Komat, LSI Software, Mextra and VOX.
It must be emphasized that apart from the premier products featured in the exposition, the fair visitors were given opportunities to attend a number of culinary trainings and demonstrations. These included Hotel Marketing Conference (HMC), an event which was participated in by more than 470 hotel representatives, as well as the highly respected within the gastronomy environment Polish Culinary Cup, which made the Polish gastronomy sector hold its breath for two days, thus making it possible to experience extraordinary culinary sensations. The judges providing assessment during its 17th edition gave the victory to Bartosz Peter and Rafał Kudliński, representing a 4* Copernicus Hotel in Toruń. The winners prepared a quail mosaic for starter, halibut with autumn extras for main course, and autumn apple with smoked cream for dessert. They were followed by Paweł Salamon and Maciej Pisarek, ranked 2nd, and Paweł Kubera nad Kajetan Świokła who finished in 3rd.
The next edition of Polagra Gastro and Invest Hotel Fair will take place from 1st to 4th October 2018.
Polagra Tech and Pakfood – a thought-through strategy
The Poznań International Fair has been carrying out extensive cooperation with many entities within the sector (enterprises, associations, state institutions). Thanks to the synchronization of events for particular sectors of the economy held during the fair, companies do far better than if they were marketing their businesses on their own. The synergy strategy is aimed at preparing and running Polagra Tech and Pakfood in a way which will be beneficial to our clients.
There are real benefits of such a reasonable combination. Polagra Tech and Pakfood are a combination of offers and events for the two corresponding sectors. It is like a marriage of the fair for food technologies and the fair for food packaging, which guarantees access to everyone interested in what the sectors can offer. That provides a chance to plan the production holistically and review both the scopes in one place, at the Poznań International Fair.
The forthcoming edition of Polagra Tech will be held in the coming year. The Exhibition for Baking and Confectionery Technologies will take place from 30th September to 4th October 2018, whereas the Exhibition for Food Technologies will take place from 1st to 4th October 2018.
Matchmaking Fair
What makes the fairs held in Poznan different is the fact that their organizers run a long-lasting marketing campaign in order to attract professional visitors. For the exhibitors, the intensive activities marketing their brands and products around Poland and abroad from the moment they have applied are of great importance.
It is worth thinking about how to plan your participation in the upcoming edition of Polagra today! While Polagra events are prepared to meet the needs of the sector, their main objective is to offer the fairs participants opportunities for real meetings and contracts.