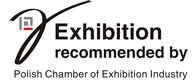 HOSTED BUYERS
Programme Partner

Do you know that ...
Get knowledge about the fair, register your company and build your competitive advantage.
Do you know that ...
... 73% of our visitors are the representatives of senior management and decision-makers in companies and this means very specific business meetings;
… POLAGRA FOOD Fair are visited by representatives of retail chains, among them Aldik, ALMA, API Market, ARHELAN, AUCHAN, BAĆ-POL, BALTIMA, C. Olsen Trading, CARREFOUR, EPI Market, EUROCASH, GH PL PLUS, Grupa Muszkieterów Polska - INTERMARCHE POLSKA, Hoogwegt Poland, IGLOTEX, Interfood Polska, Intermilk, JERONIMO MARTINS POLSKA, KAUFLAND, Laktopol, LEWIATAN, LIDL Polska, MAKRO, MAŁPKA, MAROL, NETTO, NORDIS, PIOTR I PAWEŁ, Polser, SELGROSS, Poland Food, Sieć Handlowa SUŻYW, SI MARKET, SKLEP POLSKI PHUP, Społem, Spółdzielcza Sieć Handlowa TĘCZA, STOKROTKA, TARGET Polska, TESCO, Trade Milk, ŻABKA, Zielony Market, Zielona Spiżarnia, and many other;
… the POLAGRA FOOD Fair are visited by buyer form abroad, who arrive Poznań as members of our special HOSTED BUYERS programe. During last year's edition, we had the pleasure to host industry representatives from 44 countries, including: Algeria, Austria, Belgium, Bulgaria, Chile, China, Croatia, the Czech Republic, Denmark, Egypt, Estonia, Finland, France, Greece, Spain, the Netherlands, Ireland, Iceland, Israel, Canada, South Korea, Lebanon, Lichtenstein, Lithuania, Latvia, Moldova, Germany, Nigeria, Portugal, Russia, Romania, Serbia, Slovakia, Slovenia, Sri Lanka, Sweden, Switzerland, the United States, Turkey, Ukraine, Hungary, United Kingdom, Italy. We were visited by the representatives of foreign retail chains, wholesalers and food products importers.
See interview wit Martin van Hese from Belgium:
Buyer form abroad, visiting POLAGRA FOOD, are most interested in the following categories of products:
meat and meat products
dairy products
fruit and vegetable products as well as frozen fruits and vegetables
cereal products
alcohol, in particular wine and beer.
Do you want to reach within three days with the offer to people responsible for stocking store shelves in Poland and to distributors of food from abroad? Apply for POLAGRA FOOD.
Contact: Joanna Sauer-Własny: tel. +48 61 869 26 38, e-mail: joanna.sauer-wlasny@mtp.pl.