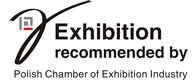 HOSTED BUYERS
Programme Partner

Do not fall behind!
Win the race against time! Lower prices for participation in Polagra Food are offered only until May 31.
For the food industry, the Polagra Food Fair is a harbinger of consumer trends, a comprehensive overview of offers, but also the promotion of the Polish food industry and its achievements outside Poland.
Every year, it is visited by tens of thousands of professionals from all over the world, looking for news and inspiration and, above all, focused on concluding long-term contracts.
It is also an important event in the context of the development of new export prospects, in which Hosted Buyers programme plays the key role - thanks to it, food distributors from all over the world, interested in concluding contracts with the Polagra Food participants, take part in the Fair.
To make the best use of the offer, it is worth registering your participation before May 31!
As a result, you will get the lowest prices, but also take part in our marketing activities that we implement free of charge to our exhibitors! In our information channels (Visitors Guide, website, social media, trade press) we promote companies, products and brands that will be presented at Polagra Food!
POLAGRA FOOD -IS AN INTERNATIONAL, COMPREHENSIVE AND CONTRACTING FAIR EVENT