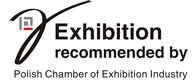 HOSTED BUYERS
Programme Partner

Dairy cooperatives will present many new products.
Will they win over consumers?
The exhibition of the dairy industry will be available in Hall 7. The exhibitors will include: OSM Łowicz, OSM Koło, OSM Czarnków, OSM Ryki, SM Mlekpol and SM Gostyń.
The detailed list of exhibitors, including those representing the dairy industry, is available here.