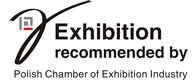 HOSTED BUYERS
Programme Partner

Candy from Poland
See the offer of Polish producer on POLAGRA FOOD Fair.
"Pszczółka" is a leading producer of hard and filled caramels in Poland. It follows traditional, proven recipes to guarantee the invariably delicious taste of our candy, but also use new solutions and respond to market trends.In company offer: chocolate candierc, caramels, nuts nad dried fruits in chocolate and fudge.
Pszczółka candy has been appreciated by consumers and industry professionals for years, winning many awards and rewards. Pszczółka products have also captured international markets. They can be found in stores in such countries as the USA, Russia, the United Arab Emirates, Jordan, Germany, Latvia, Slovakia, the Czech Republic, Estonia, Azerbaijan, and Mongolia.
Pszczółka is 100% Polish company and part of Krajowa Spółka Cukrowa S.A. Capital Group which is an exhibitor of POLAGRA FOOD 2018.