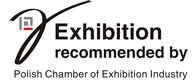 HOSTED BUYERS
Programme Partner

Belgian beer, wine from the Italian Peninsula and poppy seed liquor
A sophisticated range of alcoholic beverages at Polagra Food.
As every year, during the Polagra Food Fair, a wide range of Italian wines will be presented. The Italian Food & Wine Hall offers a few hundred metres of exhibition space, where Italian producers will show their wines from different regions, much appreciated by sommeliers. The offer for the stores that want to meet the needs of connoisseurs of French wines, especially those from Alsace, will also be present at the Fair.
At Polagra Food, distributors of the amber beverage will exhibit as well. Among others, the Belgium's Best company being the largest importer of Belgian top-fermented beer in Poland confirmed their presence at the Fair. The company offers nearly 300 different types of bottled beer from 29 Belgian breweries. Such a wide range of beers is certainly something that may meet various customers' tastes.
Moreover, the manufacturers and distributors of high-proof alcohol will also take part in this year's event. The group includes, among others, the Polish Polanin – producing alcohols according to traditional recipes. The company's offer comprises not only vodka, but also liqueurs, brandy and whiskey. The similar range will be presented to the Fair visitors at the stand of Minsk Kristall.
And finally a real gem among the new products, which is the Macuma poppy seed liqueur from Hungary. This unique product is a combination of brandy and poppy seeds aroma absorbed as a result of the distillation process. As claimed by the manufacturer, the liqueur stands out from other products thanks to its unique taste that will certainly impress many people, as well as silky texture. It is worth checking out oneself.