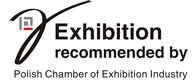 HOSTED BUYERS
Programme Partner

Become a superhero!
Sign up for the Polagra Food fair until May 31 and benefit from lower prices and a package of promotional services prepared for our exhibitors!
On 25-28 September, in Poznań, you will be able to meet with food distributors from all over the world. This is the only opportunity to:
establish new business relationships with trade representatives from around the world
present the offer to new and existing customers
get feedback on new products
gather information about market expectations to adjust your offer in the future.
To make the best use of the offer, it is worth registering your participation before May 31!
Benefits of registration till the edn of the May:
the lowest prices of exhibition area
a possibility to choose the better location
promotion of company logo at a baner placed on website www.polagra-food.pl to 3 months before the fair
presentation of new products at your offer at www.polagra-food.pl, press materials, newsletters sent to the food distributors, catalog of new products distributed to key visitors of Polagra Food.
Ask about the offer >>>
Do you have any questions? Conatct us!
Joanna Sauer-Własny, tel. 691 033 075, e-mail: joanna.sauer-wlasny@mtp.pl.