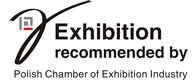 HOSTED BUYERS
Programme Partner

Bags for convectional oven or grill
An excellent solution for retail chains with their own gastronomy.
During this year's edition of POLAGRA FOOD Fair, you will be able to learn about the newest solutions from Amber Paper company. Among them, bags covered with food silicone that do not contain chemical additives and which prevent food from sticking to the heating devices. The paper from which the bags are made is resistant to temperatures up to 2200 deg C. It also prevents foreign odors and aftertaste from entering the food.

The bags are intended for baking,  sandwiches, kebabs, tortillas, casseroles, hamburgers, paninis, hot dogs, pizzas. Baking bags with the selected product can be directly placed on the surface of the heated device.

The offer of Amber Paper also includes silicone-coated baking paper, resistant to heat, moisture and cold, available in sheets or rolls, in a standard format and in a format prepared at the customer's request.