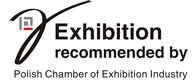 HOSTED BUYERS
Programme Partner

13.02.2018
Apply to the competition.
17.01.2018
Join the POLAGRA FOOD exhibitors and take the advantage of presence of potential cooperators form abroad.
09.01.2018
See how POLAGRA FOOD 2018 will look like (presentation).
03.01.2018
New fair dates it's also and new date application with lower prices for exhibition space!
23.11.2017
... new promotional price term.
21.11.2017
For the food industry POLAGRA FOOD is the source of knowledge of consumer trends, a comprehensive overview of offers of manufacturers as well as the promotion of the food industry and its openness to the needs voiced by consumers.
30.10.2017
We are presenting you with the latest interactive issue of Poznań Fair Magazine "Calendar of trade fair in 2018". It is absolutely unique publication onto polish market! We invite you to click!