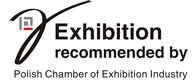 HOSTED BUYERS
Programme Partner

12.03.2018
It derivatives boosts the flavour of salads, boiled and fresh vegetables, soft cheeses.
08.03.2018
Straight from France.
07.03.2018
See the offer of Polish producer on POLAGRA FOOD Fair.
06.03.2018
Krajowa Spółka Cukrowa S.A. is currently the largest in Poland and eight largest sugar beet grower in Europe.
05.03.2018
As member of Hosted Buyers Programme.
05.03.2018
This reffer to the salad cheese from Średzka Spółdzielnia Mleczarska Jana.
05.03.2018
Get knowledge about the fair, register your company and build your competitive advantage.
01.03.2018
An excellent solution for retail chains with their own gastronomy.