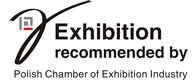 HOSTED BUYERS
Programme Partner

04.04.2018
The company is participate in fair as Hosted Buyer Programme member.
03.04.2018
Exporter of: isotonic drinks, fruits, fresh juices, organic products, meat, alcohol and preserves.
28.03.2018
See the best products of Polagra Food Fair exhibitor.
26.03.2018
PACKAGING POLSKA is an international packaging magazine with an exciting editorial line and modern layout.
23.03.2018
We present the winners of Gold Medal competition 2018.
15.03.2018
The company is going to participate in POLAGRA FOOD Fair.
14.03.2018
See the offer of POL-FOODS company on Polagra Food Fair.
13.03.2018
Read the short interview with Marek Przeździak, President of the Association of Polish Chocolate and Confectionery Manufacturers .