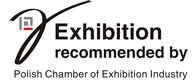 HOSTED BUYERS
Programme Partner

15.05.2019
Modern production and packaging lines, inspiring equipment for gastronomy, food products from around the world - this is just a preview of this year's edition of POLAGRA, the largest event for the food, HoReCa and packaging industries.
09.05.2019
What are their preferences in this area?
08.05.2019
We invite food importers, wholesalers, retailers and all representatives of food industry interested in food novelties and establishing new business contacts.
06.05.2019
Who visits the Polagra Fair?
09.04.2019
Fair of confirmed quality.
08.04.2019
We encourage you to read the material summarizing the most important points related to preparation for the fair.
08.03.2019
Join the exhibitors of POLAGRA FOOD Fair.
07.03.2019
What are the organizers' objectives?