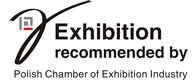 HOSTED BUYERS
Programme Partner

18.10.2018
The Fair will again be part of the trade fair dedicated to the food industry, HoReCa and packaging and logistics industry.
27.06.2018
We present You the latest issue of Poznań Fair Magazine. We invite You to read both its paper and online version. In this issue we present the distinguished guests who visited Poznań International Fair in the recent months, provide reports on the spectacular fair and events, and present Arena Hall, which joined the group of objects managed by the Poznań International Fair. And moreover…
17.05.2018
3 intensive days of meetings of the food industry, for the first time held in spring, are behind us.
17.05.2018
It was an event with interviews in the foreground against the background of food − high quality, innovative, developed based on consumer expectations.
08.05.2018
Za godzinę rozpocznie się Gala wręczenie znaków PDŻ.
07.05.2018
The official openning of the fair.
03.05.2018
See how to take a part in this matchmaking event.
02.05.2018
Prepare your visit at Polagra Food Fair.