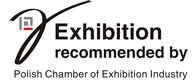 HOSTED BUYERS
Programme Partner

Opening hours for visitors
Tuesday (08.05): 10:00 - 17:00
Wednesday (09.05): 10:00 - 17:00
Thursday (10.05): 10:00 - 16:00
Opening hours of the ticket offices
Tuesday (08.05): 9:30 - 16:30
Wednesday (09.05): 9:30 - 16:30
Thursday (10.05): 9:30 - 15:30
Ticket prices
SINGLE-ENTRY TICKETS
Professionals, available on-line at www.mtp24.pl: 30,00 PLN
Professionals, checkout registration: 30,00 PLN
Professionals,single-entry with car park available on-line at www.mtp24.pl: 45,00 PLN
For general audience, without registration, checkout only: 100,00 PLN
MULTI-ENTRY TICKETS
Professionals, available on-line at www.mtp24.pl: 55,00 PLN
Professionals, checkout registration: 55,00 PLN
Professionals, multi-entry with car park available on-line at www.mtp24.pl: 85,00 PLN
For general audience, without registration, checkout only: 180,00 PLN
Car park
Single car entry: 30,00 PLN
Information about tickets
Invoices
Invoice for ticket bought in the ticket office

You can obtain an invoice at invoicing desks in open entrance lobbies in the trade fair opening times upon presenting a purchase receipt.
Car park
The Poznań International Fair, Ltd. offers a supervised car park (with 850 spaces) to its guests. It is located 350 m from the fairgrounds. Open 24 hours a day. Suitable both for cars and coaches. You can enter the car park through two gates: at Matejki Street (main gate - open throughout the year) and at Ułańska Street (additional gate - open only during large trade shows).
Prices of the PIF car park located at Matejki Street:
Single-track vehicle (motorbike, bicycle): 2,00PLN/h
Passenger car: 4,00 PLN/h
Delivery van, truck, bus, car with trailer: 8,00 PLN/h