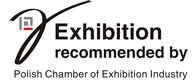 HOSTED BUYERS
Programme Partner

■ Register in Exhibitor Zone
In order to use the shopping in the Exhibitor Zone, you need to fill out a form authorizing a specific person to order services on behalf of your company. By completing the form, you authorize the person to incur financial liabilities at various events organized in Poznan by MTP.

The completed and signed form must be sent to the email address: joanna.sauer-wlasny@ mtp.pl.

Then you will receive your login and temporary password to use the Exhibitor Zone.