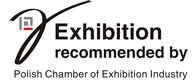 HOSTED BUYERS
Programme Partner

■ Benefits for exhibitors
BUILD THE IMAGE OF THE BRAND ON POLISH MARKET, DEVELOP COMMERCIAL CONTACTS, CONQUER FOREIGN MARKETS
POLAGRA FOOD is not only an opportunity to present food products, but also a package of marketing tools that will help develop brand awareness and relationships with business partners.
How do we support our exhibitors?
We invite buyers from abroad interested in importing food products.
We invite people responsible for stocking retail chains, food wholesalers and food distributors to participate in the fair.
We promote new, unique products from the exhibitors' offer in the POLAGRA NEWS branch magazine, on our website, in information sent to branch media.
We support the promotional campaign of products awarded with the Gold Medal of MTP - the winners receive the medalist's package with an estimated value of 50,000. PLN!
POLAGRA FOOD is a comprehensive service that supports food producers.
Do you have any questions? Contact me!
Joanna Sauer-Własny, tel. +48 61 869 26 38, e-mail: joanna.sauer-wlasny

Hubert Goliński, tel. +48 603 590 128, e-mail: hubert.golinski

ADDITIONAL INFORMATION
Let your novelties be visible at the fair
One of the additional possibilities offered to Exhibitors during the fair is the presentation of their newest products, technologies and services. It is an excellent form of promotion and prominent display of products that are new on the market and those that make their debut at the fair.
New products are the driving force of technological development in every industry, which is why they are a very valuable addition to the trade fair offer. Products shown to professional audience are sure to be appreciated. Products debuting at the trade fair can be showcased in specially marked exhibitors' stands, which guarantees their high recognition among visitors. Also, information about new products can be published in trade fair guides, press materials and on the fair's website. NEW PRODUCT application >>>
Gold Medal of MTP
ach year, almost 500 products enter the competition for the Gold Medal of Międzynarodowe Targi Poznańskie. However, only the ones that meet the statutory criteria and obtain positive recommendations of the professional jury will receive this prestigious award. The jury, which is a team of experts consisting of eminent specialists representing adequate areas of economic life, looks for modern, innovative products, manufactured basing upon top class technologies. The MTP Gold Medal is thus a confirmation of product excellence and, consequently, an element of its promotion in the market.
More information >>>
Acanthus Aureus
We would like to invite you to participate in the Acanthus Aureus Competition organised by the Poznań International Fair since 2003. In this competition the Acanthus Aureus statuettes are presented to the best designed stands adjusted to the implementation of corporate marketing strategies. According to the new rules, awards are presented by exhibitors who enter a stand to the competition.

The aim of the competition is to grant awards to the best architectural and graphic solutions that are conducive to direct communication with customers and underline a positive corporate image.

More information >>>