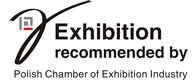 HOSTED BUYERS
Programme Partner

■ Advertising services
Our range of advertising services includes all forms of promotion which will make it easier for you to reach your target group. We offer effective tools to enhance your presence as an exhibitor at trade fairs. An appropriate and well-aimed application of these tools will contribute to making your offer more attractive to professional trade fair visitors.
TRADE FAIR CATALOGUE
Our trade fair catalogue offers each exhibitor a perfect opportunity to showcase their product range. Published before each trade fair, the catalogue makes it possible to reach your carefully selected target group interested in the industry showing at given trade fair. You can be sure that the catalogue will arrive at the hands of each and every exhibitor and will be available for purchase to all trade fair visitors. The catalogue is the basic manual guiding visitors around the exhibition area. It is also the best source of concise information about what is put up for display at different exhibitions.
We offer the following services to all our exhibitors:
- obligatory entry in the alphabetical directory of exhibitors: the entry includes company name and address,
- text of trade fair offer,
- company logo,
- address entry in the directory of exhibitors drawn up by product group.
On your request, we can also place the following items in our trade fair catalogue:
- advertisements,
- advertising inserts,
- or we can design an advertisement for you.

Detailed information is available in the application form R.
We can also place your logo on exhibition plan - G form.

OUTDOOR / INDOOR ADVERTISING
Large-format advertisements displayed at trade fairs are, without doubt, the most attractive and the most readily noticeable form of promotion. We offer advertising areas outside of exhibition pavilions, on the main walls of pavilions and in neutral locations both in pavilions and entry halls. The maximum area of a single advert is 360 m2.
See our detailed offer at: OUTDOOR and INDOOR presentation
Anyone interested in our services who would like to obtain a current price list is kindly requested to contact: Małgorzata Barczak; phone +4861 869 2524; fax +48 61 869 2960; e-mail: malgorzata.barczak

FLAGS AND ADVERTISING STRUCTURES
As exhibitors, you have a chance to have your own advertising structures put up on trade fair grounds (i.e. both in open areas and neutral locations). Depending on structure size and method of mounting, we will always do our best to select the best possible location for you. Moreover, exhibitors may request advertising flags to be placed on their own masts or masts provided by the fair organisers.
Detailed information is available in the application form R1




MOBILE AVERTISING - hostesses
Throughout trade fair duration, all exhibitors can order their promotional materials, leaflets and advertising gadgets to be given out to visitors. Using mobile advertising tools, you can provide visitors with all desirable information well before they find their way to your exhibition stand. The spectrum of possibilities is enormous, ranging from distinctively dressed hostesses and stilt walkers, attendants on roller blades or roller skates, to mime artists and many more. Everything depends on you and your ingenuity.

Detailed information is available in the application form R1
You are more than welcome to browse through our hostess database. If you are interested in this service, please contact:
ADVERTISING IN THE POZNAŃ TRADE MAGAZINE
The Poznań Trade Fair Magazine (PMT) is published by the MTP. The magazine presents the most important information related to trade fairs scheduled to take place in the coming quarter. Poznań Trade Fair Magazine comes out in three language versions (Polish, English and Russian) and is sent to Chambers of Commerce and Industry, Economic Chambers, embassies and various associations all over the world.
If you are interested in publishing your advert in the PMT, please contact:

Poznań Fair Magazine
4, Trębacka Street
00-074 Warsaw, Poland
tel.: +48 22 828 9944
fax: +48 22 827 0759
e-mail: warszawa