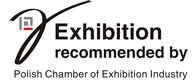 HOSTED BUYERS
Programme Partner


Hosted Buyers Programme
A unique addition to POLAGRA FOOD is the Hosted Buyers programme, which makes it easy for the top, international buyers to attend the event and gives opportunity to set up pre-arranged appointments with exhibitors. For program we invite food importers, wholesalers, retailers and all representatives of food industry interested in food novelties and establishing new business contacts.
Benefits for visitors:
opportunity to explore the comprehensive food industry product range
opportunity to establish cooperation with representatives of the food industry - exhibitors from Poland and 30 other countries
opportunity to get acquainted with novelties - numerous market premieres on special offers
business formula - a package of benefits for professional visitors.
For our Hosted Buyers we provide:
Hotel accommodation in Poznan (2 nights with breakfast – 29.09-1.10.2019)
Meetings with your choice of exhibiting companies
Dedicated POLAGRA-FOOD support team before and during the exhibition
Transfers within Poznan (hotel – exhibition – hotel)
A free access to POLAGRA-FOOD 2019
Entry to HOSTED BUYERS ZONE and catering at the fair grounds
REGISTRATION ( link do: https://www.hostedbuyers.eu/en/polagrafood/Registration/()

Do you have any questions?
Contact the tutor of the HOSTED BUYERS program:
Iwona Stefańska
phone: +48 61 869 20 87
mobile: +48 603 410 384
e-mail: iwona.stefanska@grupamtp.pl
Magdalena Sobczak
phone: +48 61 869 24 93
mobile: +48 691 032 917
e-mail: magdalena.sobczak@grupamtp.pl