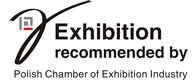 HOSTED BUYERS
Programme Partner

■ Gold Medal competition
The Gold Medal is one of the most recognisable and prestigious awards at the Polish exhibition market. Every year, almost 500 products participate in the competition for the Gold Medal of the Poznań International Fair. However, only those meeting the criteria of the professional jury are awarded with this prestigious distinction.
The Contest Jury comprising the distinguished specialists representing relevant disciplines of the economic life, searches for up-to-date, innovative products, based on the highest level technology. Consequently, the MTP Gold Medal makes the confirmation of a product excellence, becoming an important element of its promotion on the market.
During the contest, products are awarded instead of companies, although the latter are awarded for their product, exhibit, or concept. In such a way, the awarded products gain additional market recommendation.
The much earlier deadline for selection of prize-winners is the first, but not the only innovation introduced in the Contest. The list of products awarded with the Gold Medal will become known already several days before commencement of the trade fair.
The winner of the Gold Medal will receive the Medal Winner's Package - a set of promotional materials which can be used by the exhibitor during the promotion campaign: the Gold Medal, the logotype, press materials, the template of the press advertisement "Winner of the MPT Gold Medal" as well as a video and pictures from the Award Presentation Gala.
During the trade fair events, visitors will have the opportunity to choose the best product among those awarded with the Gold Medal. It will be possible to vote on the Gold Medal website through the dedicated survey. Each person will be able to vote for one product only, which he or she considers as the definite HIT of the trade fair! The product to achieve the highest number of votes shall win the prestigious title of "THE MPT GOLD MEDAL – CONSUMERS' CHOICE" as well as the statue specially designed for this occasion.
For more information please visit www.zlotymedal.mtp.pl.
Win the unique package of benefits!