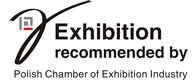 HOSTED BUYERS
Programme Partner

■ POLAGRA FOOD - benefits for exhibitors
The International Trade Fair for Food
POLAGRA FOOD
offers a preview of trends in a food industry.
This food expo allows its participants to have a look at what food producers and distributors have to offer. The vistors can get to know the Polish food and the taste from all over the world. Every year the event is visited by several dozen thousand professionals of food business who come to Poznań from around the world in search of the latest products, inspiration, and, most of all, looking to start long-lasting contracts. On top of that, the fair is an important event for all people trying to develop their export potential, where the Hosted Buyer program comes into play.
POLAGRA FOOD Fair
30.09.-3.10.2019, Poznań, Poland
Polagra Food Fair - list of products group:
meat and meat products, egg, poultry and game industry products, fish and fish products, dairy products, grain products and pastas, baked goods, confectionery industry products, fruits, vegetables and mushrooms, processed fruit, vegetable and mushroom products, processed potato and starch products, sugar industry products, mineral waters and non-alcoholic beverages, fat and oil making industry products, food concentrates, natural stimulants, herbs, s[pices and seasonings, baking goods, ready-to-eat dishes, frozen foods, honey, nutrition for children, diet, healthy and ecological food, spirits and yeats industry products.
Detailed list HERE >>>
Benefits for exhibitors
By participating in POLAGRA FOOD fair you can:
interested in the offer of owners and managers of grocery wholesalers and merchants from retail chains,
take advantage of free promotional activities such as the promotion of new products at www.polagra-food.pl, in press materials, in newsletters sent to persons responsible for stocking food wholesalers and retail chains,
actively seek new business contacts, in particular with buyers, managers of large groups of wholesalers, supermarket chains, importers and distributors of food products from abroad,
thanks to the HOSTED BUYERS program, meet with foreign visitors, among whom there will be higher-level decision makers ready to establish business contacts,
effectively have a marketing budget and take advantage of additional forms of promotion available only to POLAGRA FOOD exhibitors (eg advertising in the Vademecum of the Visitor, large-area advertising at the fair grounds),
meet with representatives of the specialized pressmeet with representatives of the specialised press
Visitors to Polagra Food Fair 2018
The leading group of this year's visitors, as much as 73%, were the representatives of senior management and decision-makers in companies (executives, owners, presidents, board members, CEOs, sales managers, purchasing department managers).