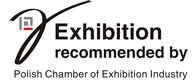 HOSTED BUYERS
Programme Partner

■ POLAGRA FOOD - benefits for visitors
Changes occurring in the food sector result in the growing expectations of Polish food producers towards the fairs as a tool to support export activities. Therefore, what has so far been a tradition, including the autumn date of the Polagra Food Fair, gives way to the solutions offering real benefits to our exhibitors. .
Benefits for visitors:
By participating in the POLAGRA FOOD trade fair you can:
become familiar with the offer of the food industry - every year we are at the fair of producers and distributors from almost all product groups,
establish cooperation with foreign representatives of the food industry,
learn about exotic products available on store shelves in other countries,
become familiar with new products - numerous market premieres covered by a special promotional program.
We invite food importers, wholesalers, retailers and all representatives of food industry intrested in food novelties, finding new business partners.
Are you interested in visiting Polagra Food Fair?
Take the adventage of HOSTED BUYER PROGRAMME.
Do you represent:
purchasing & procurement executives of major wholesaler groups, supermarket chains, importers or distributors of food products and you are responsible for planning, organizing, recommending or making purchase decisions for the company?
You may attend Polagra Food Fair as a Hosted Buyer !
Hosted Buyers Programme makes it easy for the top-level  buyers to attend the fair and gives an opportunity to meet with the exhibitors of their choice for focused one-to-one appointments. Qualified buyers will be our VIP guests. They will receive accommodation, catering and many other benefits.
Participation is free of charge, subject to strict qualifying criteria.
Save time by meeting face-to-face with leading Polish food producers.
More information about HOSTED BUYER PROGRAMME >>>
POLAGRA FOOD fair is also attractive because of the accompanying conferences, training sessions and panel discussions. We offer meetings with a group of experts on new trends in nutrition, marketing challenges faced by the food industry or opportunities in connection with developing new export directions.