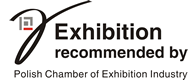 Chocolate and nut rarities
Straight from France.
The French label of pralines and chocolate, Domaine de Béquignol, will appear among exhibitors at this year's edition of POLAGRA FOOD. The company was founded in 1972. At the beginnig it offered fruit filled with liqueur. Currently, the company specializes in the production of exquisite chocolates that will be presented at the fair in May. You will be able to enjoy, among other things, Chardonnay Chocolate - chocolate creamy pralines, spiced with Chardonnay wine, coated with dark chocolate and sprinkled with cocoa.