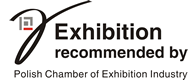 19.09.2016
The fair will open a 6-day trade fair block dedicated to food.
05.09.2016
Check the list of exhibitors of Polagra Food Fair.
30.08.2016
We encourage you to get acquainted with their advantages at the stand of the "Polska Ekologia" Association during the Polagra Food Fair.
18.08.2016
Cheese, ham, fruit and vegetable preserves straight from the Italian Peninsula.
17.08.2016
We know verdict of jury
08.08.2016
A sophisticated range of alcoholic beverages at Polagra Food.
07.08.2016
We kindly invite you to read the latest issue of "Poznań Fair Magazine". We invite you particulary to read about the GOLDEN MARKETING CONFERENCE, which take place in November. The main topic of this year conference will be neuromarketing, innovation and personalization. PMT readers' interested in participation in the conference can take adventage of special discount.
02.08.2016
See the novelties of exhibitors of Polagra Food Fair.