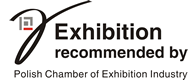 24.09.2016
We invite you to participate in the glamorous Gala.
22.09.2016
Will they win over consumers?
21.09.2016
This is what this year's Polagra Food edition promises to be.
20.09.2016
Belgian Meat Office invites you to stand 42 in Hall 7A.
19.09.2016
The fair will open a 6-day trade fair block dedicated to food.
05.09.2016
Check the list of exhibitors of Polagra Food Fair.
30.08.2016
We encourage you to get acquainted with their advantages at the stand of the "Polska Ekologia" Association during the Polagra Food Fair.
18.08.2016
Cheese, ham, fruit and vegetable preserves straight from the Italian Peninsula.