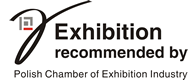 29.09.2016
Four very intense exhibition days are behind us.
27.09.2016
See the photo gallery
26.09.2016
It was good time at Polagra Food!
26.09.2016
Today, at 11:00 am next edition of the POLAGRA FOOD and accompanying TAROPAK,LOGIPAK, EPLA, POLAGRA TECH, POLAGRA GASTRO, INVEST HOTEL were officially opened.
24.09.2016
We invite you to participate in the glamorous Gala.
22.09.2016
Will they win over consumers?
21.09.2016
This is what this year's Polagra Food edition promises to be.
20.09.2016
Belgian Meat Office invites you to stand 42 in Hall 7A.