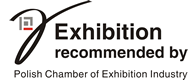 HOSTED BUYERS
Programme Partner

06.03.2018
Krajowa Spółka Cukrowa S.A. is currently the largest in Poland and eight largest sugar beet grower in Europe.
05.03.2018
As member of Hosted Buyers Programme.
05.03.2018
This reffer to the salad cheese from Średzka Spółdzielnia Mleczarska Jana.
05.03.2018
Get knowledge about the fair, register your company and build your competitive advantage.
01.03.2018
An excellent solution for retail chains with their own gastronomy.
27.02.2018
The novelties of JOGO - milk comapny from Łódź are going to be presented on POLAGRA FOOD Fair.
21.02.2018
POLAGRA FOOD every year attracts a large group of visitors with well-known brands of food products, food innovative, as well as exotic flavours from around the world.
13.02.2018
Apply to the competition.