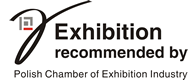 25.09.2017
This year, at the Polagra Food Fair, the participants will become familiar with the offer of more than 200 exhibitors.
12.09.2017
In less than two weeks the tastiest fair – Polagra Food International Trade Fair for Food and Catering Products – will begin in Poznań. What will the exhibitors tempt us with?
05.09.2017
The conference takes a place during Polagra Food Fair.
28.08.2017
Food manufacturers have prepared many novelties for the fair. Check list!
22.08.2017
Bognár és Társa 2001 Kft. Will present a series of pasta at Polagra Food Fair.
18.08.2017
This is a new offer from Celiko, which will be available at Polagra Food Fair.
14.08.2017
The winners of Gold Medal competition 2017.
08.08.2017
Manufacture Cieleśnica Bialcon Barbara Chweisuk ooffer non-standard flavours.