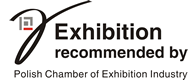 21.11.2017
For the food industry POLAGRA FOOD is the source of knowledge of consumer trends, a comprehensive overview of offers of manufacturers as well as the promotion of the food industry and its openness to the needs voiced by consumers.
30.10.2017
We are presenting you with the latest interactive issue of Poznań Fair Magazine "Calendar of trade fair in 2018". It is absolutely unique publication onto polish market! We invite you to click!
03.10.2017
Summary of Polagra Fair.
26.09.2017
This is the core of Polagra Food Fair. See the photo gallery.
25.09.2017
See our photo gallery.
25.09.2017
This year, at the Polagra Food Fair, the participants will become familiar with the offer of more than 200 exhibitors.
12.09.2017
In less than two weeks the tastiest fair – Polagra Food International Trade Fair for Food and Catering Products – will begin in Poznań. What will the exhibitors tempt us with?