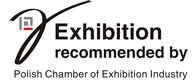 HOSTED BUYERS
Programme Partner

■ POLAGRA FOOD - benefits for exhibitors
The International Trade Fair for Food
POLAGRA FOOD
offers a preview of trends in a food industry.
This food expo allows its participants to have a look at what food producers and distributors have to offer. The vistors can get to know the Polish food and the taste from all over the world. Every year the event is visited by several dozen thousand professionals of food business who come to Poznań from around the world in search of the latest products, inspiration, and, most of all, looking to start long-lasting contracts. On top of that, the fair is an important event for all people trying to develop their export potential, where the Hosted Buyer program comes into play.
POLAGRA FOOD Fair
20-22 May 2019, Poznań, Poland
Polagra Food Fair - list of products group:
meat and meat products, egg, poultry and game industry products, fish and fish products, dairy products, grain products and pastas, baked goods, confectionery industry products, fruits, vegetables and mushrooms, processed fruit, vegetable and mushroom products, processed potato and starch products, sugar industry products, mineral waters and non-alcoholic beverages, fat and oil making industry products, food concentrates, natural stimulants, herbs, s[pices and seasonings, baking goods, ready-to-eat dishes, frozen foods, honey, nutrition for children, diet, healthy and ecological food, spirits and yeats industry products.
Detailed list HERE >>>
TIME FOR NEW SOLUTIONS
Changes occurring in the food sector result in the growing expectations of Polish food producers towards the fairs as a tool to support export activities. Therefore, what has so far been a tradition, including the autumn date of the Polagra Food Fair, gives way to the solutions offering real benefits to our exhibitors. The new formula of the Fair and its new date will make Polagra Food a more effective brand of extensive scope and objective important from the perspective of the Polish food sector.
Benefits for exhibitors:
the possibility to establish new business with representatives of the domestic market as well as with foreign partners
an opportunity to cooperate with retail chains
an opportunity to present the latest products to more than 65 thousand visitors
an opportunity to verify the offers in terms of their competitiveness and the degree of market acceptability
Visitors to Polagra Food Fair 2017
The leading group of this year's visitors, as much as 73%, were the representatives of senior management and decision-makers in companies (executives, owners, presidents, board members, CEOs, sales managers, purchasing department managers).