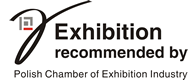 25.06.2016
Special service for exhibitors of POLAGRA FOOD Fair
10.06.2016
The MTP Gold Medal - awards, which is given to innovative products of the highest quality.
06.06.2016
75% of the total exhibition area sold!
More news
---

POLAGRA FOOD creates new opportunities
26 - 29 September 2016
POLAGRA FOOD International Trade Fair for Food is an event, whose formula is built on long experience and challenges that the food industry has to face. It is a venue where innovatory solutions and high quality products are presented. Moreover, it opens possibilities for further business development. It is this very event that is so expected by chain shop managers, food distributors, importers and retailers who are looking forward to getting familiar with what the food industry has achieved and to gain assortment fulfilling the needs of their customers.
We would like to invite you to take part in the coming edition already today!