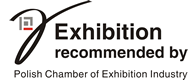 Our exhibitors in 2017:



13.02.2018
Apply to the competition.
17.01.2018
Join the POLAGRA FOOD exhibitors and take the advantage of presence of potential cooperators form abroad.
09.01.2018
See how POLAGRA FOOD 2018 will look like (presentation).
More news
---

Food Industry Fair
POLAGRA FOOD the biggest food exhibition in Central and Eastern Europe.
See the latest offer of producers and distributors of food industry.
meat and meat products, egg, poultry and game industry products, fish and fish products, dairy products, grain products and pastas, baked goods, confectionery industry products, fruits, vegetables and mushrooms, processed fruit, vegetable and mushroom products, processed potato and starch products, sugar industry products, mineral waters and non-alcoholic beverages, fat and oil making industry products, food concentrates, natural stimulants, herbs, s[pices and seasonings, baking goods, ready-to-eat dishes, frozen foods, honey, nutrition for children, diet, healthy and ecological food, spirits and yeats industry products.
The International Trade Fair for Food POLAGRA FOOD offers a preview of trends in a food industry. This food expo allows its participants to have a look at what food producers and distributors have to offer. The vistors can get to know the Polish food and the taste from all over the world. Every year the event is visited by several dozen thousand professionals of food business who come to Poznań from around the world in search of the latest products, inspiration, and, most of all, looking to start long-lasting contracts. On top of that, the fair is an important event for all people trying to develop their export potential, where the Hosted Buyer program comes into play.
We invite food importers, wholesalers, retailers and all representatives of food industry intrested in food novelties, finding new business partners.